Looking for the best weighted blankets for adults? Designed to help you relax more deeply, to ease tension and anxiety, and to help you get a better night's sleep, it's no wonder weighted or gravity blankets have become one of the hottest products on the market for those looking to improve their overall wellbeing and get better rest. 
If you're looking for a more satisfying sleep then it makes sense that once you've found the best mattress for your sleeping preferences and invested in some of the best bedding to regulate your temperature and keep you comfortable throughout the night, then adding a weighted blanket to your nighttime routine could be the last piece of the puzzle to get you drifting off to the land of nod quicker and more peacefully.
The best weighted blankets for adults: tried and tested
As a self-proclaimed 'bad sleeper' whose rest is often disturbed by a racing mind, I have certainly had a whole lot of people recommend a weighted blanket to me over the past few years. However, weighted blankets don't come cheap, and as a skeptic I was doubtful they would really work. I mean, it's just a gimmick, right?… So, who better to put the best weighted blankets on the market to the test for this guide…
 What are the benefits of a weighted blanket? 
Firstly, some science and psychology to help explain the hoped-for benefits of a weighted blanket.  
Deep Pressure Therapy, or DPT for short, is the application of sensory touch – like a hug, squeeze, massage, or swaddling sensation – that has been shown in various studies to help to soothe the nervous system and reduce anxiety. 
Founder of weighted blanket brand Remy (opens in new tab), Abeer Iqbal tells me that weighted blankets use this technique to apply a similar sensation to your body: "Weighted blankets evenly distribute a gentle weight and pressure on the body to mimic the sensation of being swaddled. This evenly applied weight stimulates the production of serotonin (the happiness hormone), reduces cortisol (the stress hormone), and increases melatonin (the sleep hormone)".
If you've ever been calmed from anxiety or disquiet by the reassuring hug of a loved one, a weighted blanket also aims to simulate this experience, as Abeer goes on to explain: "There's a reason hugs feel like they can work magic. When you're feeling anxious, your autonomic nervous system (which regulates your bodily functions like heart rate, respiratory rate, and digestion) either sends your body into 'fight or flight' (stress) or rest mode. The application of pressure therapy tells it it's safe to go into 'rest' mode, reducing some of the symptoms of anxiety, like a quickened heart rate and breathing".
Is it any wonder weighted blanket sales soared during the high-stress no-touch pandemic?
 What's the best weight for a weighted blanket? 
There's no exact science to finding the best weight for a weighted blanket, but the generally agreed principle is that you should opt for a blanket that weighs roughly 10% of your body weight to benefit from the right pressure without feeling too overwhelmed. 
And it makes sense to take sensible precautions; you don't want a blanket that is so heavy that you struggle to lift it off for example. If you are pregnant or suffer from respiratory or circulatory problems (such as asthma or type 2 diabetes) or sleep apnea you should seek your doctor's approval first. 
There are also quite a few weighted blanket retailers that allow you to trial a weighted blanket before you commit, so if you aren't sure about the weight that you'd prefer, this is a good way to test out a blanket's heaviness and make sure a gravity blanket works for you before you invest.
---
The best weighted blankets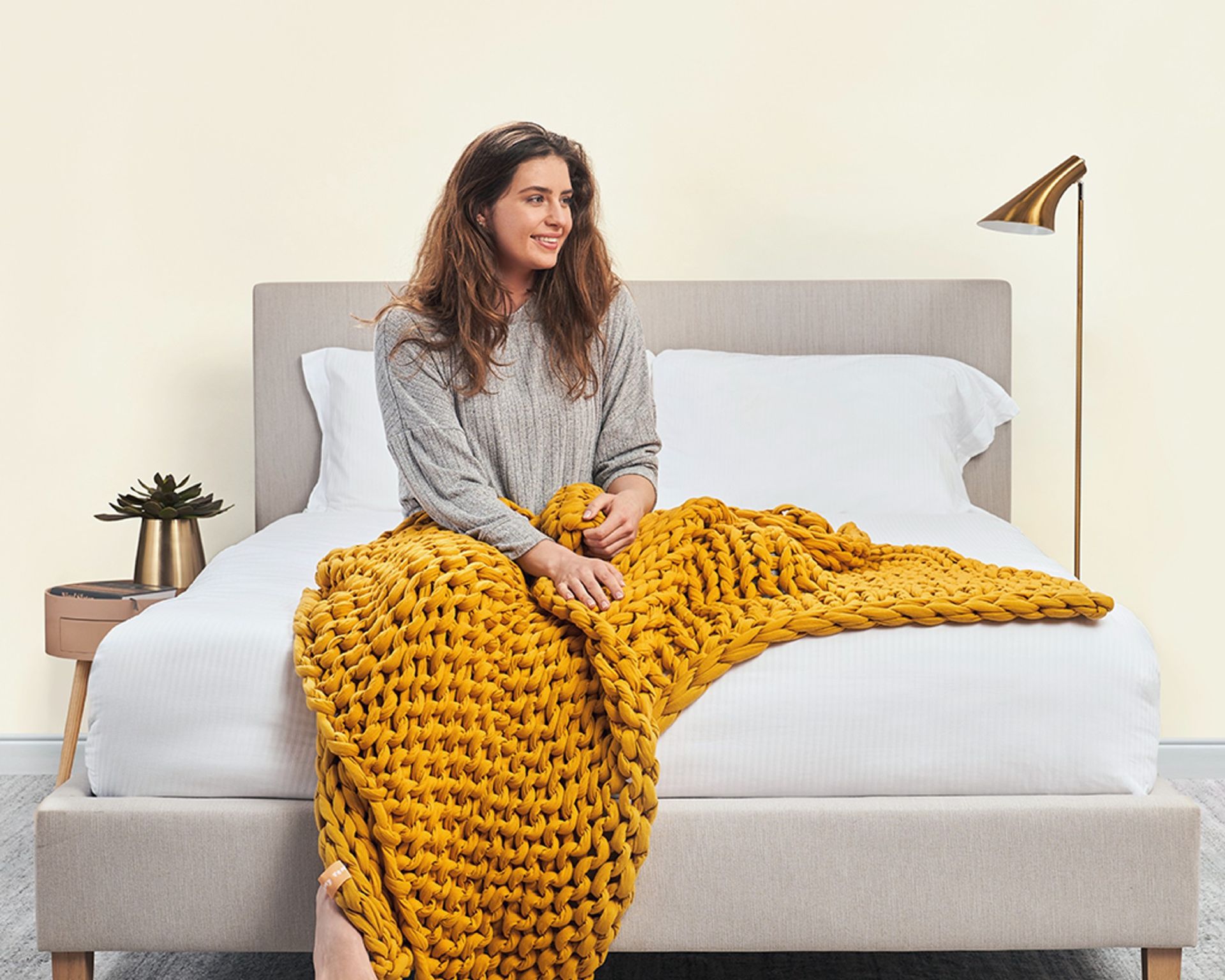 When you're shopping for weighted blankets, the designs can soon begin to become much of a muchness, with most options offering similar-looking quilted designs packed with glass beads to distribute even weight. 
Remy's Lounger weighted blanket instead delivers a statement loop knit design that makes a super stylish addition to the bed, and we think works especially well on the sofa to get a dose of wind-down relaxation before you hit the hay. 
Made from 100% cotton with OEKO-TEX Standard 100 certification (an environmental standard that confirms no harmful chemicals are present in any component of the finished product), the oversized knit packs plenty of punch in the weight stakes too, with a 6kg or 8kg version available, both in on-trend shades of pale grey, mustard yellow, forest green or deep blue. 
Whichever weight you opt for, we found the loop design makes this one of the easiest blankets to pick up and move around, with plenty of places to catch hold, unlike many 'solid' blankets which can be a bit of a struggle to pick up – especially when you get into weightier territory – making this blanket easy to transport around the house.
It also drapes brilliantly – either to wrap around your shoulders or lie under – with the oversized jersey weave moulding around you to offer a well-distributed even pressure. The loosely woven 100% cotton design also ensures plenty of breathability, so this is a great option for all year round use, offering coolness in summer, but an extra layer of warmth in winter. 
It is an investment, and the sizes are a little smaller than some other designs (although perfect for the couch), but if, like me, you just don't love the look of classic weighted blankets, then we think this is a great alternative; delivering all the performance of a regular weighted blanket, but with much more versatile good looks.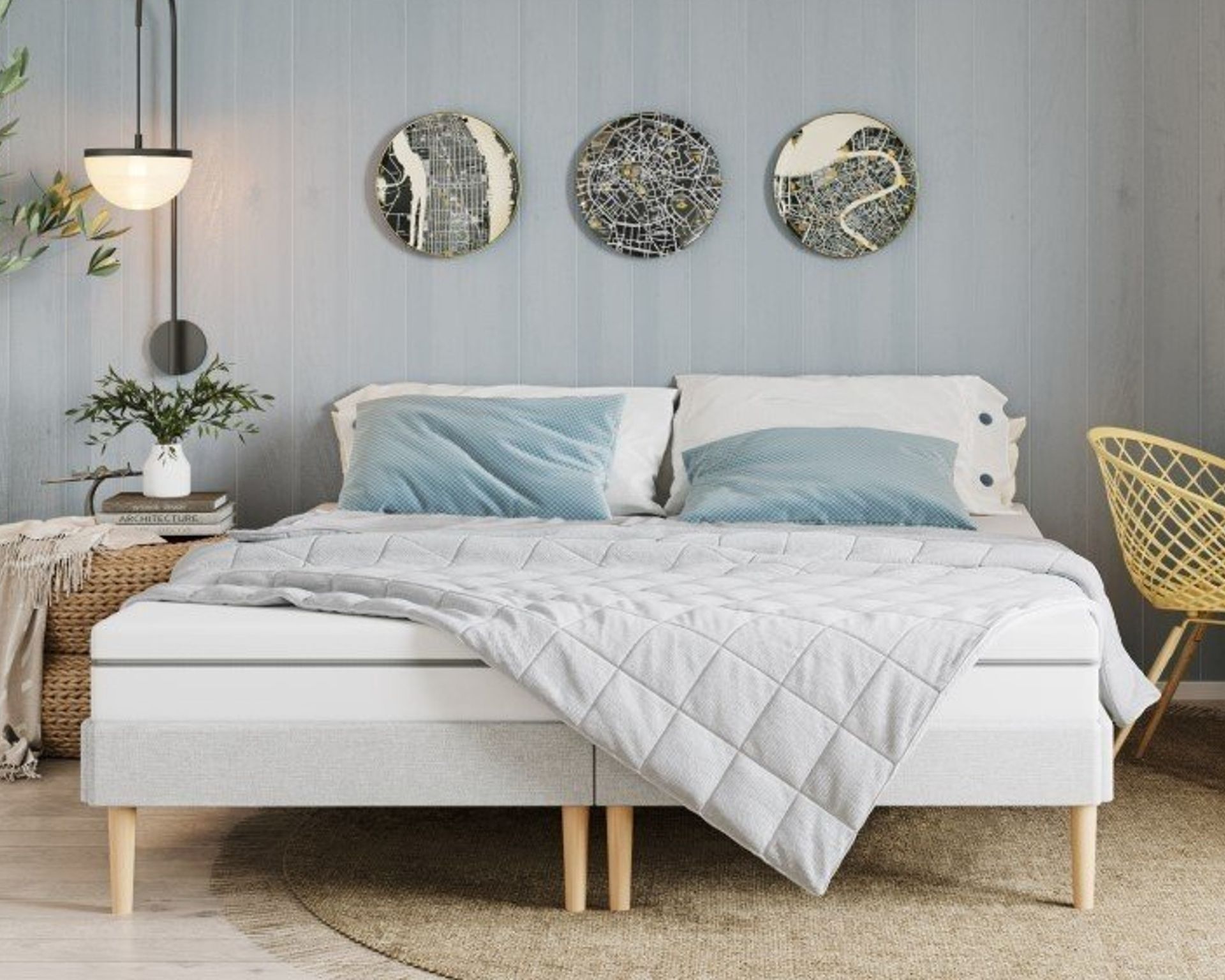 A more traditional weighted blanket, Emma's Hug weighted blanket is designed to keep things simple. It comes in one size, one weight, one cover and one colour option, which kick starts your relaxation by taking any decision-making stress out of the equation. You also get a whopping 200-night sleep trial to test this blanket out for yourself, so no worries there either.
The quilted pockets on the blanket contain polyester padding and glass beads that give this blanket a really good drape, easily moulding to your body to give you that all-over hugging sensation, whilst the 7kg weight is a good all-round option that should suit a wide range of people.
The versatile 150 x 200cm size is also our top choice for either a single bed (where it drapes down each side) or a double bed (where it sits flat on top covering most of the surface), and the light grey colourway makes it easy to accessorise with a range of decor.
The cotton outer of the blanket itself has a nice feel that's pleasant to the touch and makes the blanket breathable so you don't overheat, but for extra cooling factor, the blanket also has fabric loops to securely attach the matching pale grey bamboo cover. 
This cover is an optional extra, adding roughly £40 onto the overall cost, but we'd definitely recommend it, as it not only protects the blanket with a washable outer cover (the blanket itself is spot clean only), but because the silky bamboo has a luxurious and cool texture next to the skin that makes it a great option for hot sleepers. 
Our top recommendation for the best cooling weighted blanket, that bamboo cover also makes this an attractive addition to the bedroom, adding a layer of silky indulgence on top of your bedding.
Check out our Emma mattress discount codes to bag the best price.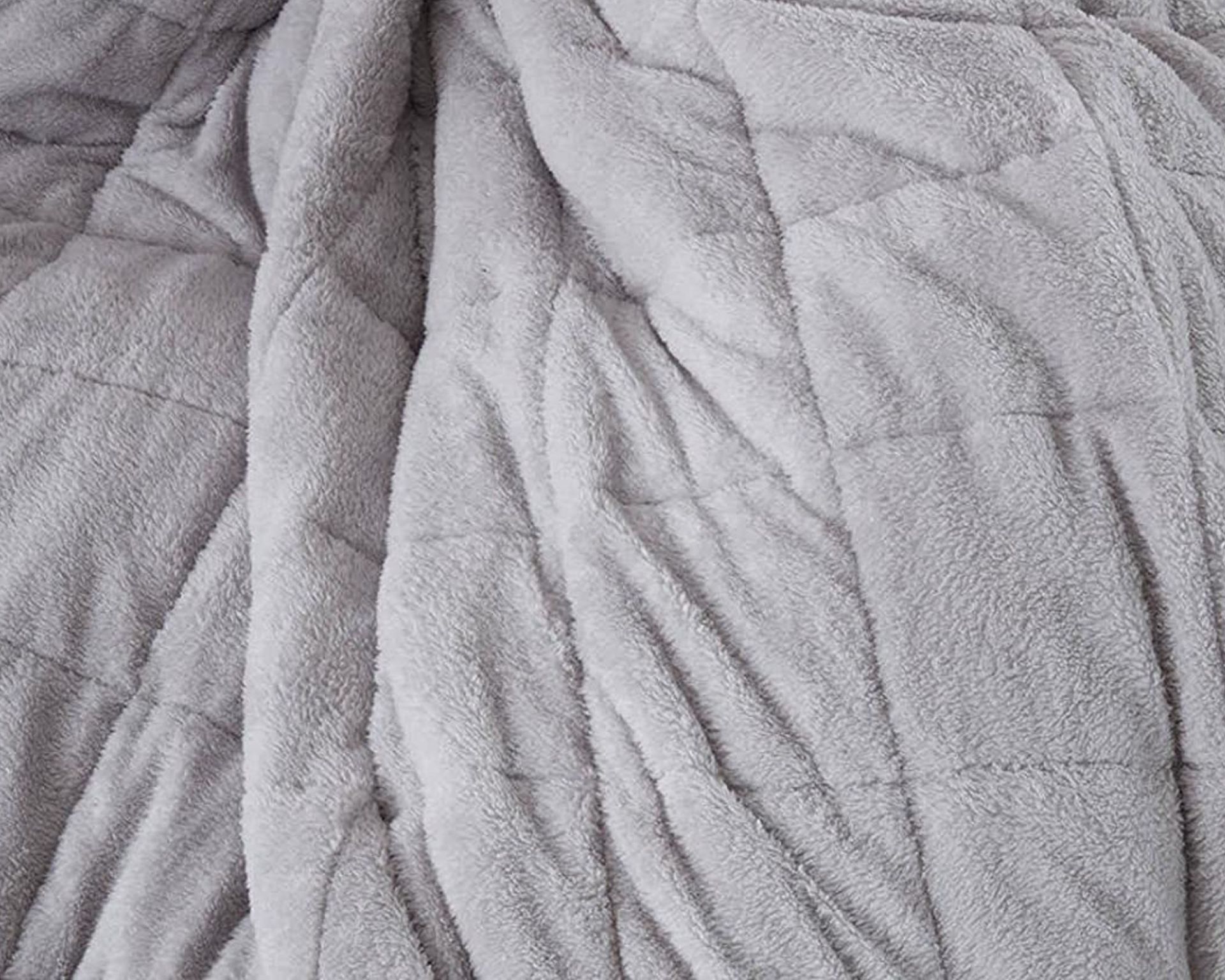 Alternatively, if you're looking for a weighted blanket to get cosy under, then Brentford's Teddy Fleece weighted blanket has plenty of snuggle-factor.
Available in pale grey or blush pink, this weighted blanket comes in a good range of sizes and weights, from the lighter 4kg single blanket to the 6kg and 8kg blankets that work well on a double bed – and all at very affordable price points, with prices starting from just £30 for the smallest option.
The softest weighted blanket we've come across, that teddy-bear fleece is just as huggable as it sounds, meaning this is a weighted blanket you immediately want to wrap around yourself – ideal for cooler evenings and winter nights.
It also drapes well, working effectively to apply pressure to the shoulders when sitting, or delivering even pressure to the whole body when laid down.
The downside is that there's no cover available to purchase with this blanket – after all, adding a cover would detract from the blanket's main selling point; it's super fluffy texture – but there are fabric loops sewn onto all corners and edges so you can attach a cover bought elsewhere if you prefer.
It's also worth bearing in mind that this weighted blanket is handwash only, a bit of a downside seeing as that fluffy texture means you'll probably want to handle it a lot. However, if you're happy you can keep it clean, this makes a great cosy, super-soft and very affordable option for the cooler seasons.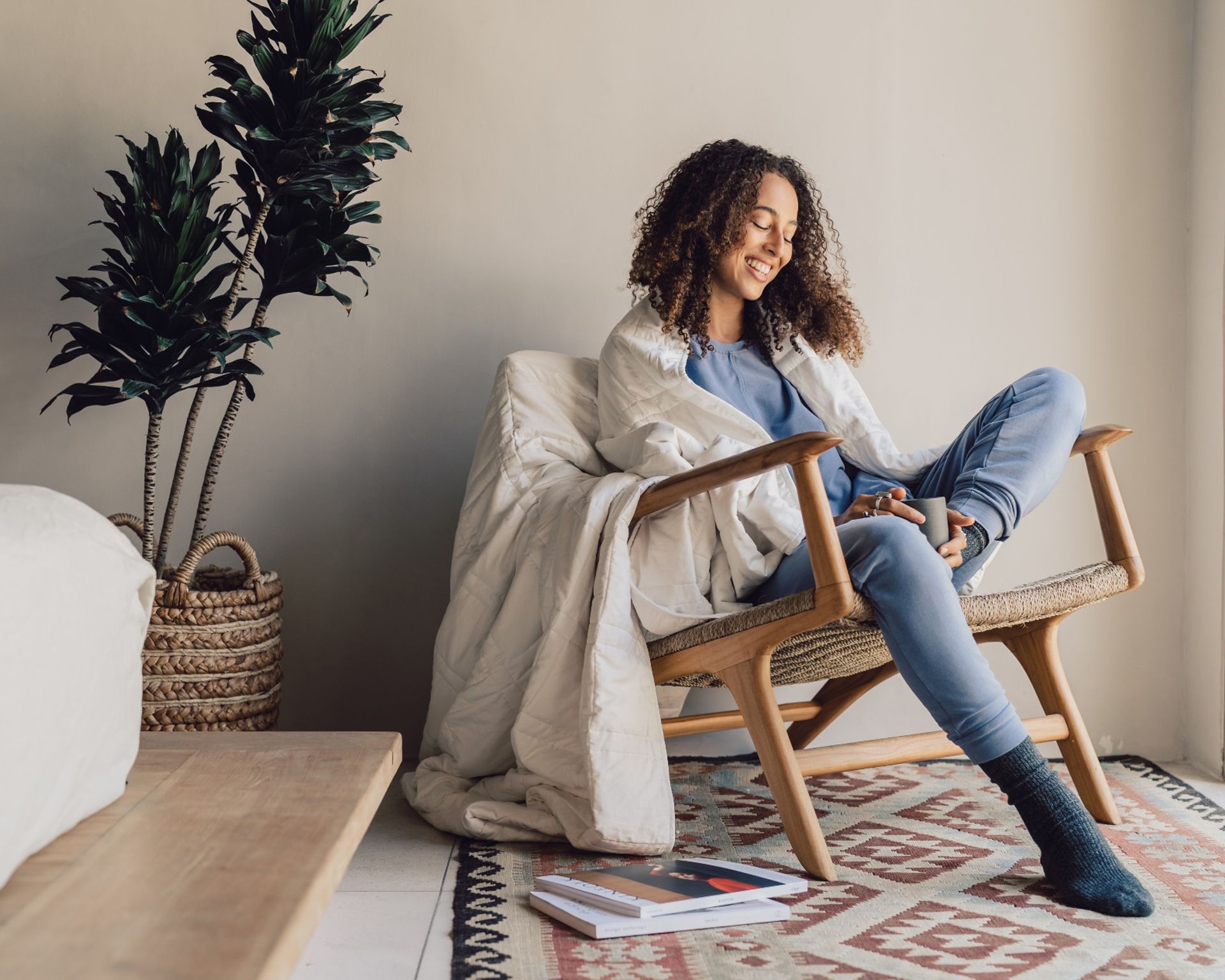 If I were buying a weighted blanket as a gift, then I think Baloo would be my top choice. Arriving in beautiful plastic-free packaging, the weighted blanket is delivered with details of how to connect to Baloo's playlist of soothing Tibetan and crystal singing bowl sounds, so you can start your deep relaxation experience from the minute the package lands on your doorstep. 
The blanket itself is also one of the softest cotton weighted blankets I tested, with the white double quilted design making an attractive addition to the bedroom – even without one of Baloo's optional extra stonewashed linen blanket covers which are crafted in on-trend shades of oatmeal, dove grey, charcoal, navy or classic white.
This is one of the few weighted blankets to also use cotton batting rather than polyester for its inner padding, which combined with the glass beads that deliver the pressure and drape, make this a highly breathable, cool and comfortable blanket to sleep under. 
Baloo's plastic-free ethos is further enhanced by a carbon-neutral commitment achieved via its partnership with Sea Trees by Sustainable Surf.
The cotton weighted blanket also comes in a great range of sizes and weights, with useful options for single, double and even kingsize beds. 
Rather ingeniously, Baloo also offers a great range of weighted comforters, designed to drape down on either side of the bed to offer a more visually appealing look, but with weighted glass beads just in the centre where it counts to make for a more comfortable sleeping experience and an easier to handle weighted layer. 
If you're looking for the most versatile classic weighted blanket – that will enhance rather than detract from your decor – then investing in Baloo's range could well be the answer you've been looking for.
A good example of a classic weighted blanket, Simba's orbit design delivers a breathable cotton outer layer and quilted padded polyester inner with glass beads to add even weight. 
This option only comes in a smaller 135 x 200cm size, which works well for a single person, but isn't that usable for sharing on a double bed, although, most weighted blanket purists will tell you that each person should really have their own weighted blanket to maximise wrap-around and the swaddling sensation. 
However, the more compact design does mean this makes the blanket easier to manouevre from bed to sofa, and the choice of two weights means you can tailor an option to your preferred weight requirements.
This is also one of the few weighted blankets which comes with a cover included, rather than as an add-on. In this case, a breathable cotton design in a dark grey to match the dark grey blanket itself. 
This makes for easy washing of the outer layer, and the handy bright blue ties also make attaching the cover to the blanket easier than some, with plenty of visual clues to help you locate the next tie.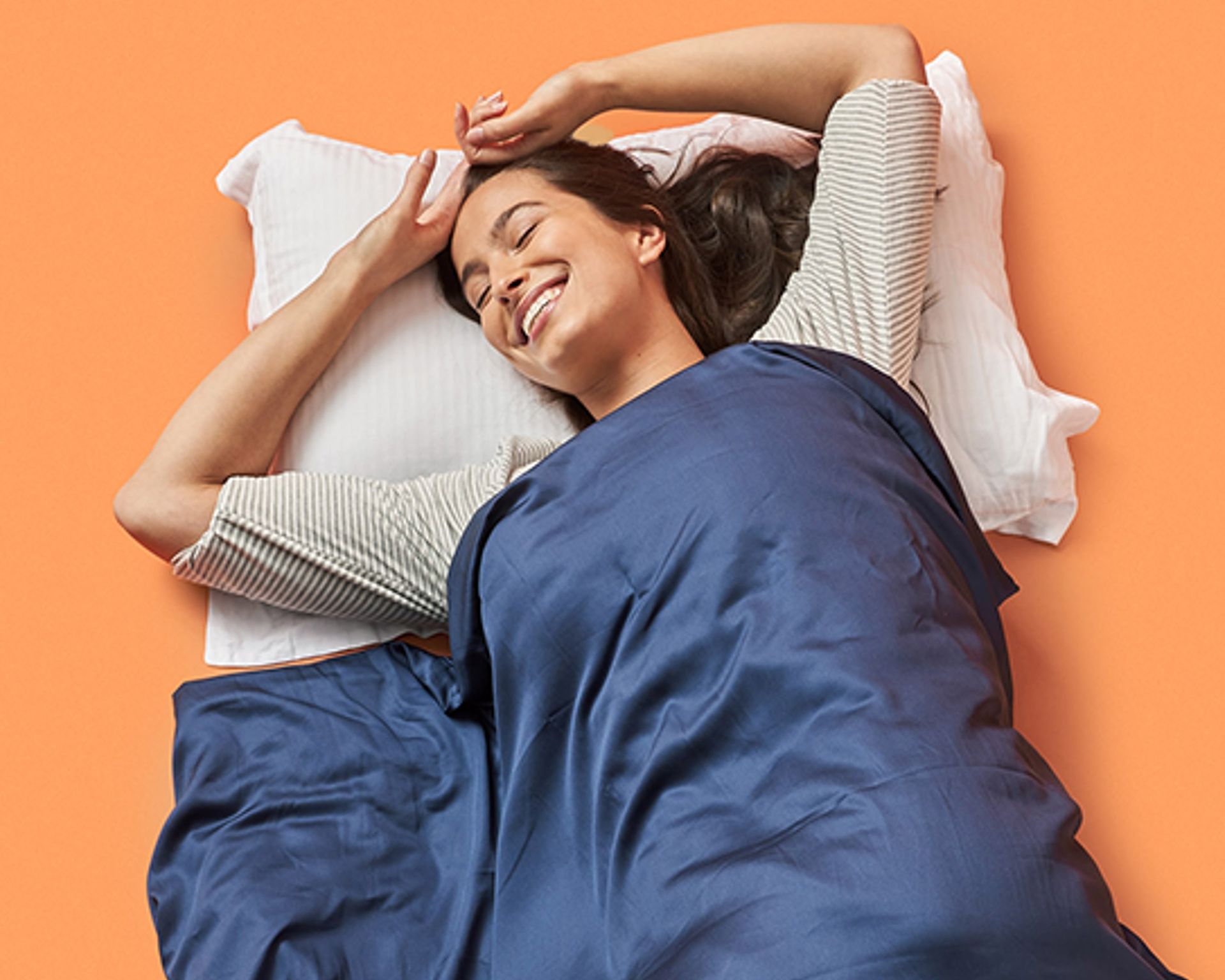 Most weighted blankets with covers secure them by the means of fabric loops on each of the blanket's corners and one in the middle of each of its edges, with ties inside the cover which you can knot to the loops to keep the layers attached.
This works – to an extent – to keep the cover in place, especially on a single or smaller-sized blanket, but as you move into the arena of the larger blankets it means that quite often when you try to pick up or adjust the blanket you end up grabbing empty handfuls of cover. 
As you edge towards the heavier weights of 10kg+ blankets this becomes more of an issue, as the blanket becomes harder to pick up and transport so you need the cover to be particularly well attached. There's also the extra strain on the (often sparse) ties to consider. 
Remy's Sleeper weighted blanket makes efforts to solve this issue (and simply make adding a cover to your weighted blanket a less annoying and fiddly experience) with its unique 360° zipper closure, which keeps the blanket firmly attached to the cover at every edge.
Once you've located the end of the zipper then zipping the cover to the blanket takes under a minute, and once fastened it feels nice and secure – even on the 10kg blanket we tested. 
You can opt for five shades of cool-to-the-touch bamboo cover that are ideal for hot sleepers, or three options of plush polyester fleece that are perfect for cooler nights. And the blanket itself comes in a great selection of sizes and weights, offering a good choice of heavy-weight options. 
We found the zipper did feel quite noticeable underneath the thinner bamboo fabric, and although the blanket also comes with ties so you can attach an alternative brand of cover we think you are likely to feel the zipper along the edge when it isn't interlocked, but we're willing to forgive it as that zipper certainly makes the heaviest of blankets far easier to move around.
Remy also offers a 100-night sleep trial, so if you're not sure which weight is best for you, this is a great option to enable you to find the best weight for a better night's rest.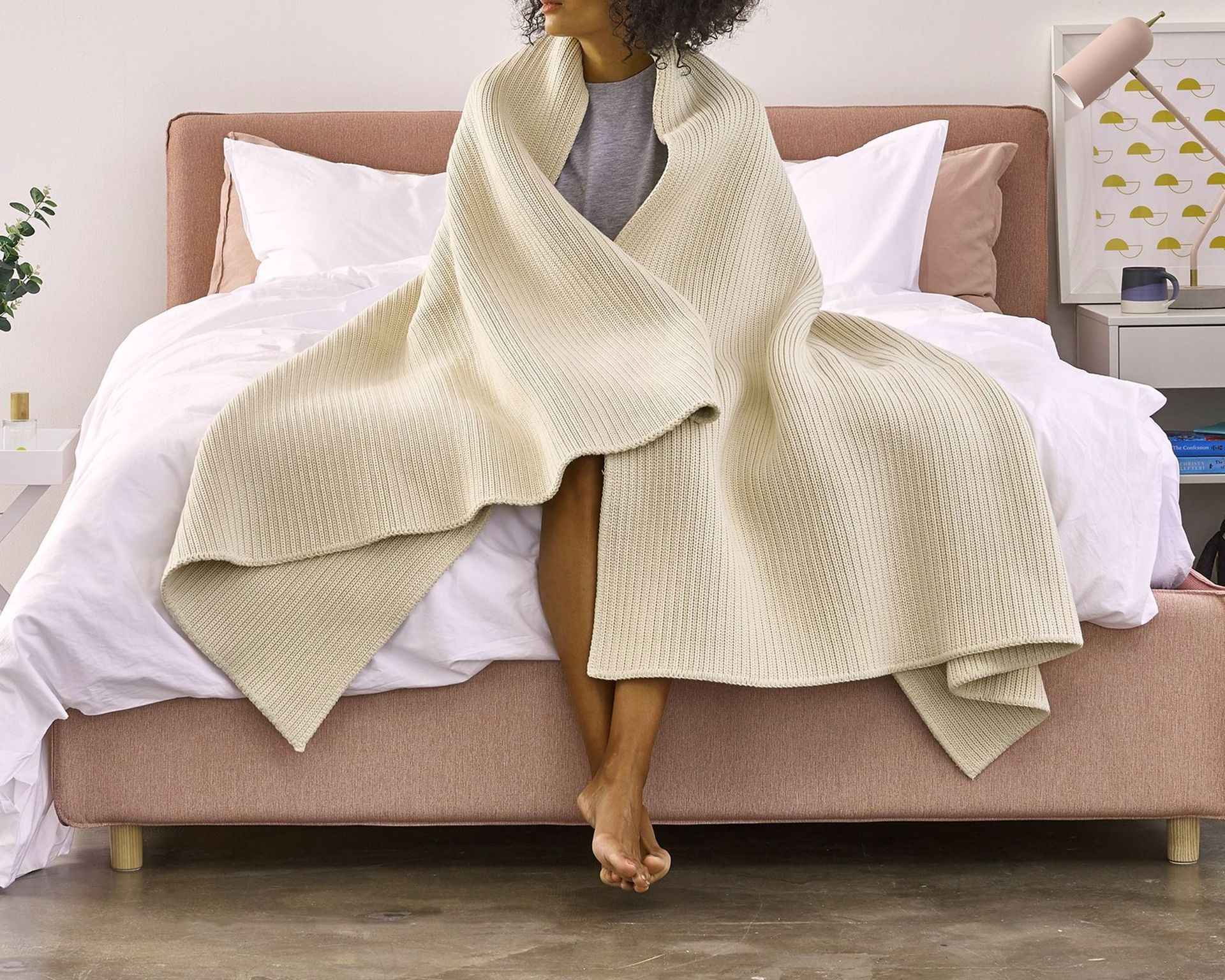 I am happy to put my hand up and say one of the main things – other than the cost – that has put me off weighted blankets in the past has been the fact that the majority of gravity blankets I've encountered up until writing this buyer's guide just haven't looked that nice. 
I just didn't want a piece of bedding in my bedroom – or a blanket on my sofa – that didn't spark Marie Kondo-style joy. Yes, you can hide a weighted blanket in a blanket box or the wardrobe when you're not using it, but in reality, it's going to get left out, but even with a cover, most weighted blankets offer limited style choices. 
So, it's reassuring to know that sleep-specialist Eve Sleep understands this quandary. Like most of Eve's range, when it comes to its weighted blanket offering, it decided to keep things simple. There is one size and weight available, and instead of opting for glass beads and quilted polyester, it went for a cream ribbed-cotton number that I for one am very happy to have on my bed.  
However, what you gain in good looks you do sacrifice slightly in terms of performance. The thick ribbed-knit looks great, but it does mean this blanket doesn't drape as well as many of its quilted glass-bead counterparts, which means you lose out on some of that all-over hugging sensation. 
You still get a decent 7kg of weight with this blanket, which I definitely felt helped me sleep more soundly, but it wasn't as satisfying to drape around your shoulders, and when it wrinkles the thick fabric means areas of weight are removed from your body completely, so it didn't offer the all-over swaddling sensation that is a large part of a weighted blanket's appeal. 
Is this blanket still worth it because it looks good and offers a good amount of sensory pressure to help you sleep more soundly? Depending on how you balance the scales of aesthetics and performance – and how large your budget is, because this option certainly isn't cheap – then, in our opinion it could well be.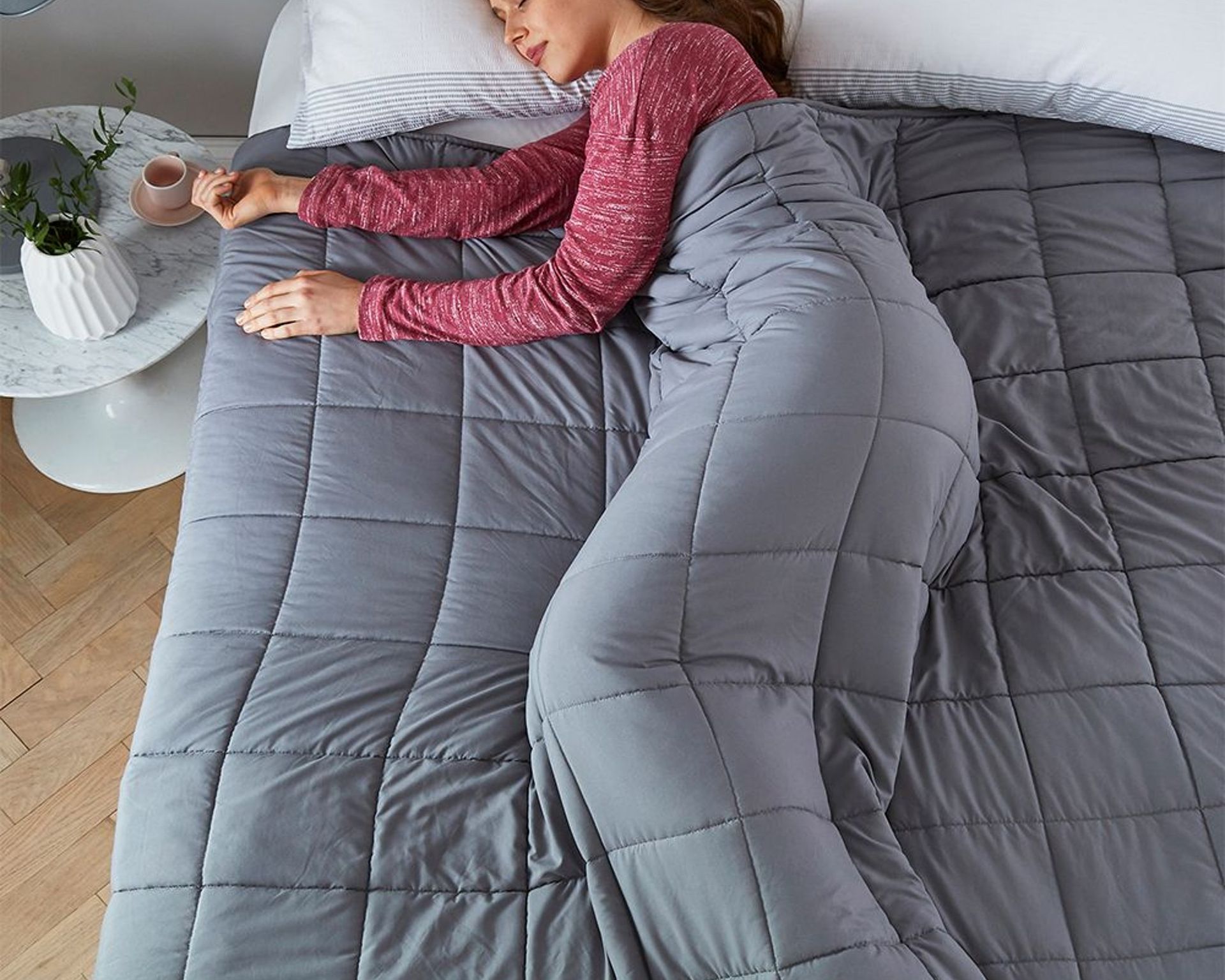 If you want a heavier-weight weighted blanket, or just don't fancy the fluffy texture of the bargain Brentford's Teddy Fleece option, then the Silentnight Wellbeing weighted blanket is one of the most affordable weighted blankets available at an RRP of £70 for the 9kg option, and a lighter 7kg blanket available for a little less. 
They're both useful weights, and the 150 x 200cm size makes either option a good choice for a double bed. 
The inner construction of polyester padding and glass beads is similar to weighted blankets that come in at double this price, and it does the trick at weighting you down to offer a gentle wrap-around pressure. 
The only downside, in our opinion, is the outer fabric. Unlike most of the other weighted blankets on this list, the Silentnight blanket has a microfibre outer layer. This created a suede-like texture, that I just didn't love the feel of next to my skin, and the tightly woven fabric soon felt pretty hot and clammy on warmer days, trapping heat under the blanket rather than letting it dissipate.
Looks-wise the dark grey quilted design also felt quite basic, although there are fabric loops attached so you can attach your own cover if you prefer – which you may well want to do as the blanket itself is spot-clean only.
Unfortunately, adding a cover didn't solve the overheating issue though, as that dense microfibre outer fabric still remains pretty unbreathable even with a more breathable fabric next to your skin. 
As an entry-level weighted blanket, it does do the job though, you might just want to try handling the blanket before you buy to make sure you like the texture, and, if you're a hot sleeper, it could be worth waiting until one of the more breathable cotton-outer blankets on our list is on sale to avoid overheating.
---
Do weighted blankets work?
So, after trying and testing some of the best weighted blankets for adults out there, has my skepticism been erased, and most importantly, do weighted blankets actually work?… Well, in short, yes. 
Sleeping with a weighted blanket on my bed resulted in what certainly felt like a deeper and more rejuvenating sleep, and in times of stress that even pressure definitely felt like it was calming and soothing my nervous system.
As someone who suffers from migraines, I also found that draping a weighted blanket over my shoulders and neck helped to relieve the tightness and tension that can develop before, after, and during an attack, gently pulling my shoulders down from my ears and delivering an instant dose of relaxation. 
If the idea of a weighted blanket appeals to you, but like me, you've been hesitating to give one a go, then with brands like Eve and Remy offering lengthy trials to test and return your weighted blanket if you find you don't get on with it, I'd definitely recommend giving one a try.
How do I choose a weighted blanket? 
When choosing a weighted blanket, firstly you'll want to get the right weight for you. Most manufacturers recommend opting for a blanket that weighs 10% of your overall body weight. 
However, we enlisted the help of several testers of a variety of weights and sizes in order to compile this guide and found that majority preferred the 7kg weight – heavy enough to deliver reassuring pressure, but light enough to sleep under all night if you wanted. This weight was also fairly transportable for most of our testers, making it easier to carry up and downstairs from sofa to bedroom.
Next, you'll want to consider a cover. You can use most weighted blankets without one, but as a layer that you may be sleeping under, or dragging across the floor to the sofa, it makes sense to be able to wash it. 
Some weighted blankets are machine-washable themselves, but as a bulky item, a large drum washing machine or laundrette is likely to be necessary for larger sizes. Plus, most take a while to dry, so having a cover you can untie and pop in the wash is far quicker and more convenient. (If you do need to wash, have a read of our advice on how to wash a weighted blanket by washing machine or hand).
You can buy weighted blanket covers separately – and all of the blankets on this list have a way to attach the cover so it stays in place –  but just bear in mind that not all weighted blankets are the same size, so you'll need to look for a cover that matches your blanket's measurements.
What is the best weighted blanket to buy?
The best weighted blanket for you will ultimately come down to your individual preferences… and budget. 
The Brentford Teddy Fleece and Silentnight Wellbeing weighted blanket are both good budget options, with the soft and fluffy Brentford Teddy Fleece weighted blanket making a particularly cosy – and affordable – option, with the caveat that washing is going to be a little more tricky. 
If you're willing to spend a little more money, or can hold out for a sale, (keep an eye on our bedding sales page for each month's best bedding deals) then the Eve Hug weighted blanket is one of the best cooling weighted blankets for hot sleepers we've come across, plus its silky pale grey bamboo cover looks super stylish to boot. Although, if you prefer to go plastic-free, then Baloo's all cotton weighted blanket is a great alternative for hot summer nights, plus there's a far wider range of sizes and weights on offer and a great selection of linen covers for a more organic look – albeit they are more of an investment.
If you prefer to use your weighted blanket on the sofa, or want a super-breathable option, then Remy's looped cotton knit Lounger weighted blanket is one of our best buys and comes in a range of super-stylish colourways. Plus, if you want a heavy-weight weighted blanket then the brand's zip-fastened Sleeper weighted blanket is a secure solution.
How to up the relaxation levels in your bedroom
Investing in a weighted blanket isn't the only thing you can do to increase your chances of a good night's sleep.
Sourcing the right pillow for your preferred sleeping posture – whether you're a front, side, or back sleeper – can make a big difference to a comfortable snooze, as well as finding a duvet that offers good temperature regulation so you don't wake up too hot or too cold. You'll find our top picks of both in our guides to the best pillows and best duvets available – and don't worry, you don't need to spend a small fortune to get a better night's sleep!
Most sleep experts will also tell you that creating a calming environment in the boudoir is essential for a successful wind down in the evening. This can be achieved via the bedlinen you opt for – which also plays a large part in sleep comfort and temperature regulation – and the decor that you choose for this important room in the house. Get some inspiration in our guides to the best duvet covers and bedding sets, our bedroom ideas round-up, and our guide to how to decorate a bedroom.
It's also important not to underestimate the power of a calm mind. Using a mindfulness app like Headspace (opens in new tab) or Calm (opens in new tab), or doing mindful stretching exercises like yoga or pilates before bed can all help you to train your mind and body to relax, helping you to achieve more restorative sleep.