There are few pieces of furniture that are going to make quite as much impact on our homes as the sofa we choose. Few are also as likely to be quite as much of an investment, so picking the best sofa for you is an important decision.
A sofa is the place we sit down and relax in the evening, gather with friends and family, and spend a good chunk of our everyday lives, so obviously any design we invest in needs to be comfortable.
And, as one of the largest pieces of furniture in our living rooms – and an item we're likely to look at every single day – it also needs to score big on style. Plus, of course, there's budget to consider.
It's clear that a sofa has to fulfill a lot of different requirements, and that's where our best sofas round-up is here to help. We've tried and tested bestselling designs, read multiple reviews, and grilled the Real Homes team for their expert opinions to help narrow find the top sofas around. We've also highlighted the key factors to consider before making a purchase at the end of this guide.
So, whether you want a spacious corner sofa with room for all of the family, a chaise sofa to kick back and relax on, a classic three-seater sofa, or a contemporary two-seater, you'll find the best options right here. And if you want your sofa to work a little harder, then make sure to check out our guide to the best sofa beds too.
Best sofas 2022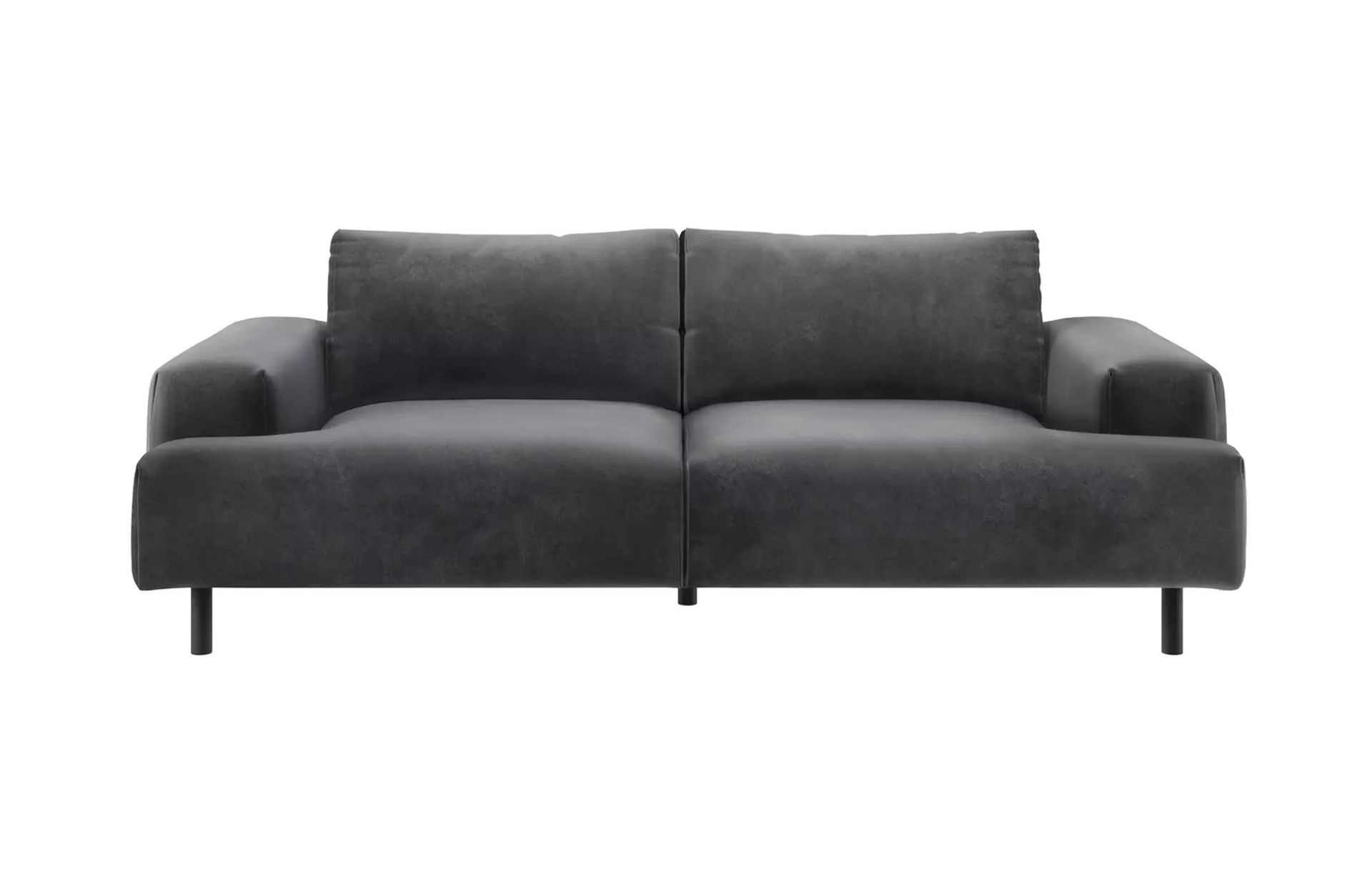 Comfortable and stylish, there's a lot to like about Habitat's Julien sofa, and at just £670 for the 180cm wide two-seater or £800 for the 220cm wide three-seater, if you're looking for one of the most affordable sofas you can invest in – without compromising too much on comfort or looks – then this option comes high on our list.
At this price point there are still some compromises of course, namely the fixed seat cushions which mean you can't just flip over a cushion if a spillage occurs, and the limited upholstery options (you're going to need to like velvet), plus the shortage of width options compared to other sofa models on this list. The low-to-the-ground frame with 40cm seat height may not be for everyone either. 
So why does the Julien still score so highly? Because for the price this is one comfortable sofa. The fixed fibre-wrapped foam seats are on the slightly firmer side but the model we tested still had a good amount of squish, and we loved the seat depth, which with the foam-filled seat cushions offering good comfort and support was perfect for sitting or curling up on. Plus the low armrests are well-padded and the perfect head height for naps, or (although generally not recommended for your sofa's frame health) a great width for perching on during a party.
And, although the upholstery options are limited, the velvets are amongst some of the nicest we've sampled, with a lustre that feels a lot more luxe than most sofas of this price-point can muster and deep rich shades in some great colourways. Plus, although the coordinating range isn't extensive (there's no ottoman to turn this into a chaise sadly) the matching armchair is a great buy too.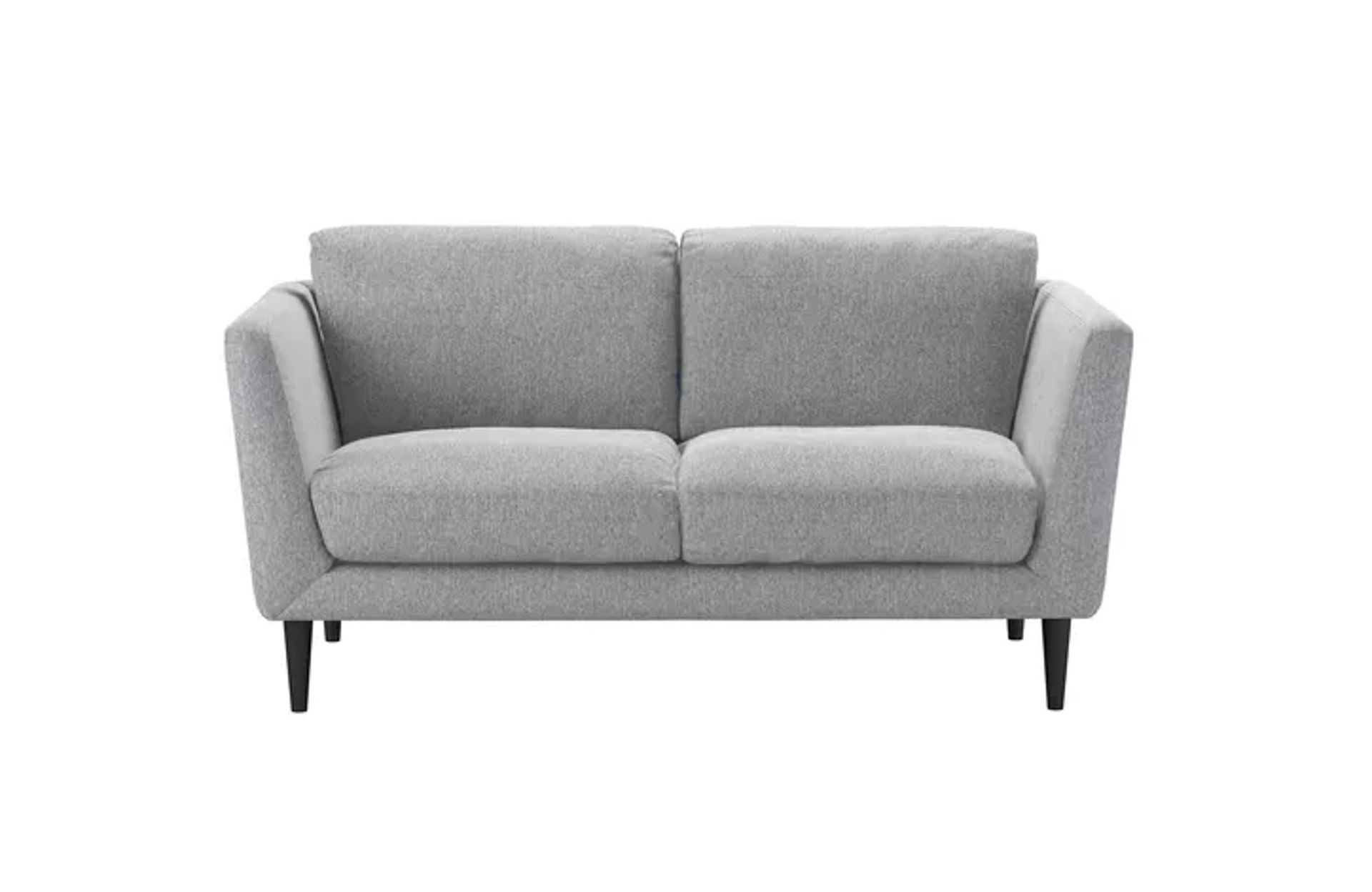 If you're looking to furnish a small living room, then the Holly sofa is well worth having on your radar, with the design available in a versatile range of size options including 155cm width two-seater and a very useful in-betweener two-and-a-half-seater option. There's also a space-saving extra-small corner sofa configuration that will add extra seating whilst maintaining a small footprint. 
In fact, everything about the Holly design has small-scale living in mind, from the stylish high-legged design that lifts the sofa frame clear of the floor to add visual spaciousness, to the space-saving thinner armrests and not-too-deep-or-too-shallow seat depth. Although, if size isn't an issue then there are also plenty of larger options to choose from; from 4-seater through chaise and multiple corner configurations. There's also a matching armchair and upholstered footstool.
The wide variety of sizes and configurations on offer is also matched by a broad choice of over 70 upholstery options, including some great family-friendly smart velvets and cottons, textured boucles, leather and linen-mix options. And the contemporary style has just enough of a nod to mid-Century design that we think it will work brilliantly in either a modern or period home.
In our opinion, this sofa also offers just the right mix of squish and support. The feather-wrapped foam seat cushions are just deep enough to curl up on, and if you prefer to sit upright then the soft-yet-firm back cushions have your back. And it's not just the cushions doing the support work either, the high frame means you can lean back securely without the cushions gradually deflating like many models. We also liked the high armrests which mean there is back support if you like to sit sideways with your feet up too, although that height does make reaching for the coffee table a little harder.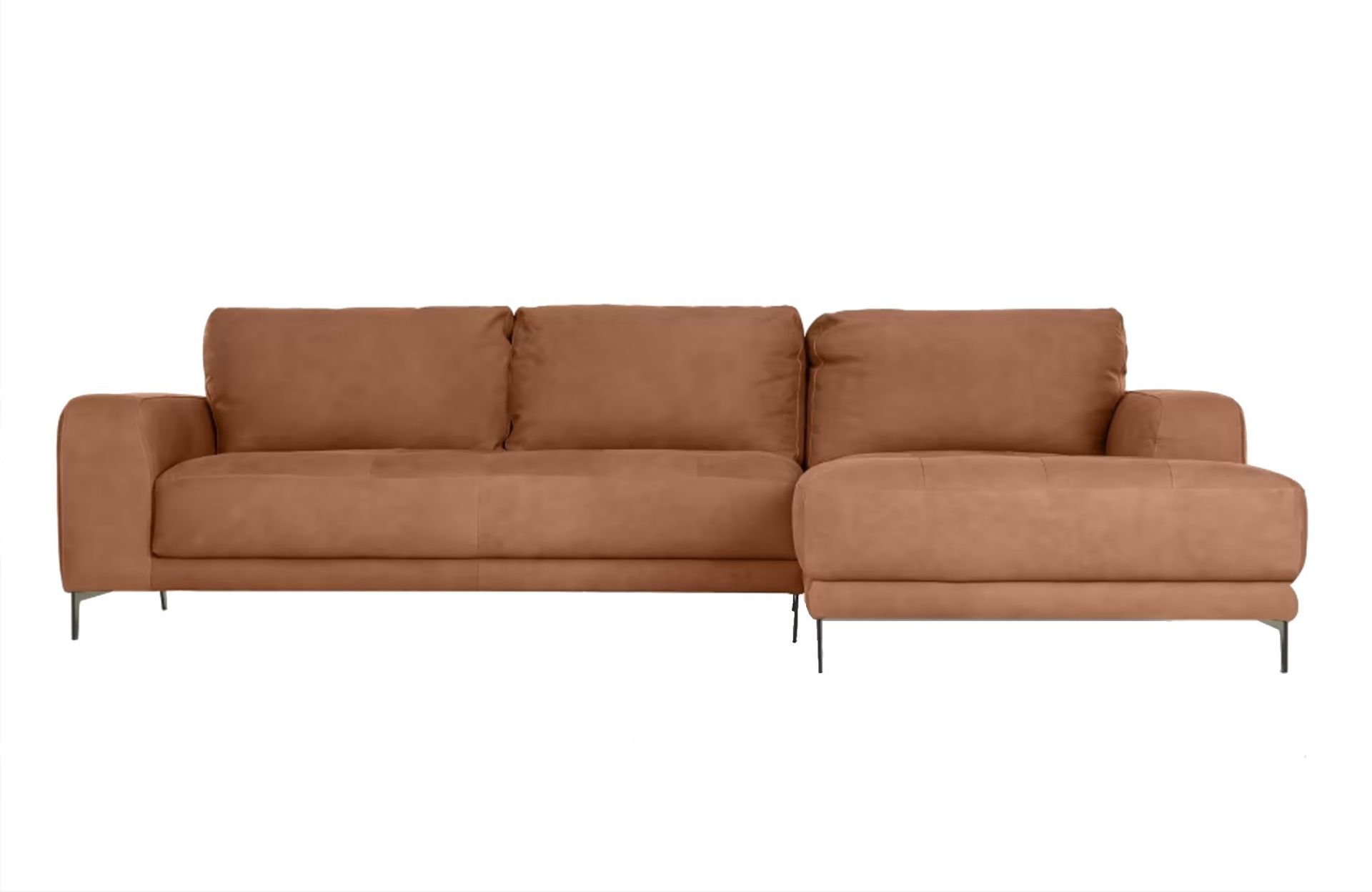 As long as you have the space, then you're not likely to regret opting for a chaise or corner sofa. Perfect for stretching out and putting your feet up, an L-shaped chaise gives that bit more room for relaxing (although you could add a footstool instead if that offers more versatility). Adding an extra few feet of legroom does mean you're going to increase the cost of a sofa though, which is why we think this affordable chaise sofa from MADE is a great value option.
Upholstery options are limited to just seven choices, but there are some good fabric selections amongst those, plus some attractive leathers if that's more your style, although they will add on an extra £1,300 to the price tag.
Comfort-wise this chaise sofa doesn't miss a beat either. We tested the leather version (which is likely to be a little firmer) and the seat cushions were pleasantly soft with a surprising amount of bounce, plus back cushions offered a good level of support.
Unlike some chaise sofas you can't swap the chaise section around on this model, so just make sure you plan out your room layout before you buy, and lead times can be on the lengthy side, so you may need to be willing to wait to put your feet up. Otherwise, we think this is a great option to get comfortable on.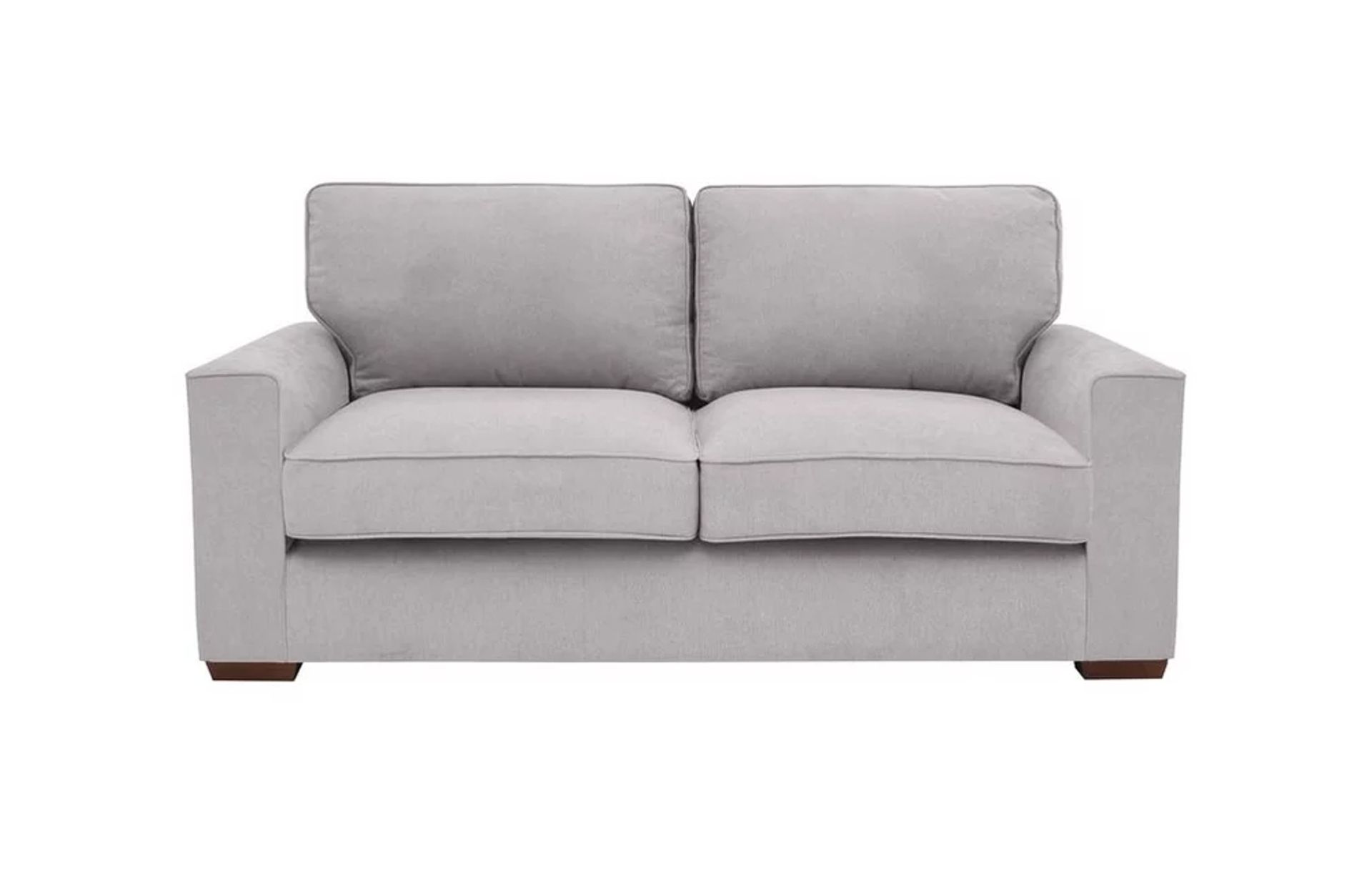 The most affordable sofas often tend to be quite modern in appearance, but if you're after seating that's a little more timeless – and that won't break the bank – then the Cory sofa's blocky build could well fit the bill. 
Having tested a few models in different upholstery options – with both the classic back cushion or scatter back cushion design – we've been impressed by their comfort levels, with a seat depth that's the perfect compromise between loungey and upright to keep both sitters and curler-uppers content, and supportive back cushions with good height armrests.
There's also a good selection of sizes on offer, including two and three-seater, plus a chaise and corner sofa option that can be complemented by a matching footstool, armchair, and swivel chair. There's even a cleverly disguised sofa bed version that is a rarity amongst sofa beds in that it's barely distinguishable from the sofa in terms of seat comfort – perfect if you're looking for a multifunctional sofa that will allow you to host guests without compromising on your own comfort if said sofa bed needs to also be your main living room seating.
The only potential downside is the shortage of upholstery options. We weren't blown away by either the slightly-too-shiny Dallas woven chenille or the slightly too thin Cosmos polyester option, although all are versatile neutrals. It's a shame the slightly more exciting scatter back cushion fabrics aren't available as the main body cover, but, as long as you want grey or beige (and statistics show most of us end up playing it safe this way) then this sofa still remains a good all-rounder at a great price point that's well worth considering, especially if you time your purchase with one of Furniture Village's fairly regular sales.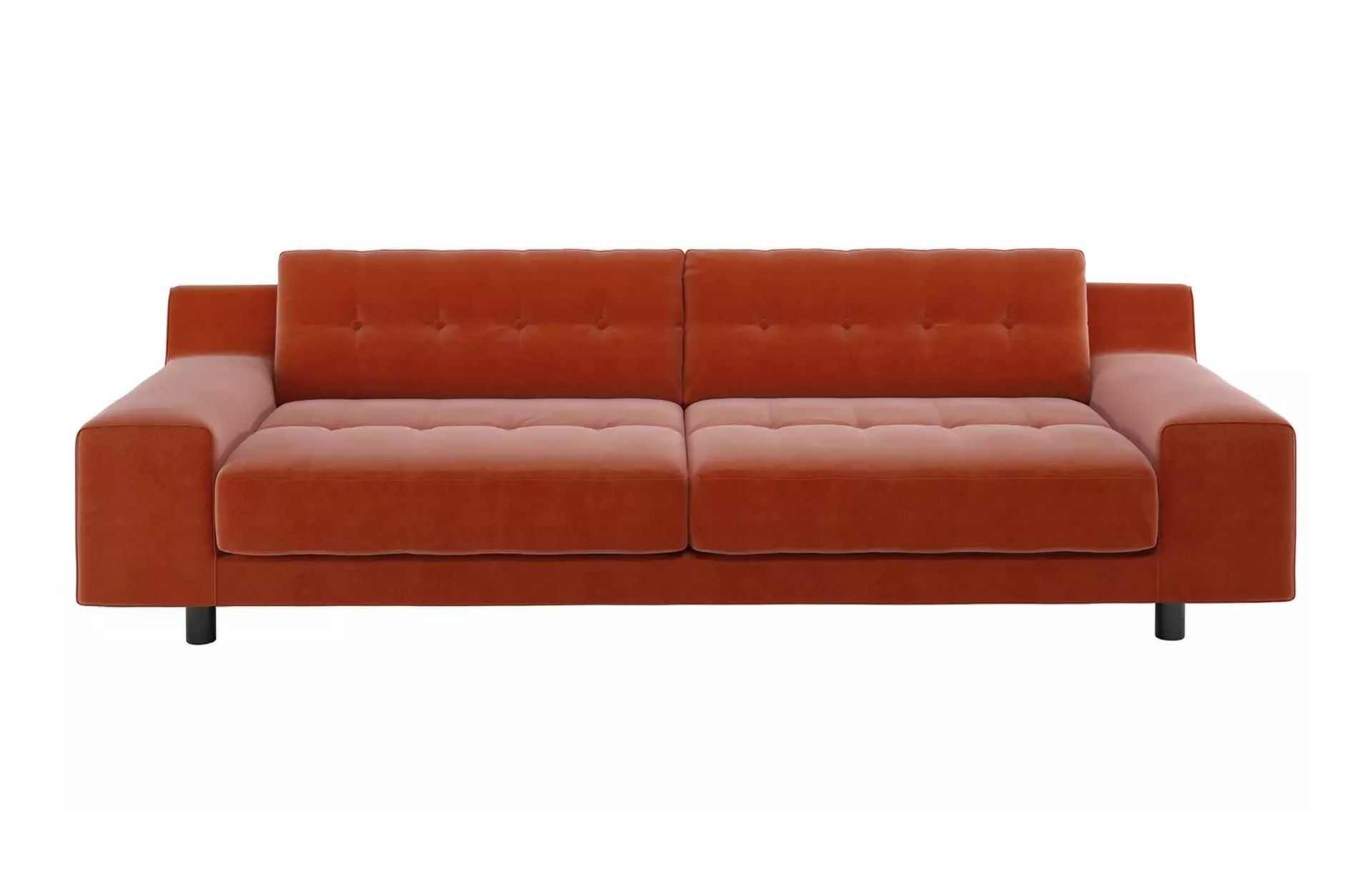 If you have the space to work with then you're unlikely to regret opting for more sofa to stretch out on, especially if you have multiple housemates, family, or friends to seat comfortably. 
A large sofa generally means (a lot) more expense though, which is probably why the great value Hendricks sofa is one of Habitat's most popular designs, offering spacious seating at a very affordable price point compared to other designs of this size.
There are generously proportioned two, three, and four-seater sofa options, plus a three or four-seater chaise and two corner sofa configurations to choose from, all in Habitat's luxe-look velvet upholstery. And while the colour choices may be limited, all are great shades that lend statement style to this contemporary design. 
What's more, we loved the comfort levels on all the models we tested. The seat is deep, especially if you're on the shorter side, but we found it very comfortable for sitting or lounging, with comfortable seat cushions that have a nice amount of sink, and soft yet supportive back cushions. The padded armrests are also super comfortable, with the low arms a great height for resting your head for a nap.
Although the back may be a little low in height for some, this low profile design also works especially well in an open plan room where it won't interrupt the flow from one zone to another, delivering a designer look without the designer price tag.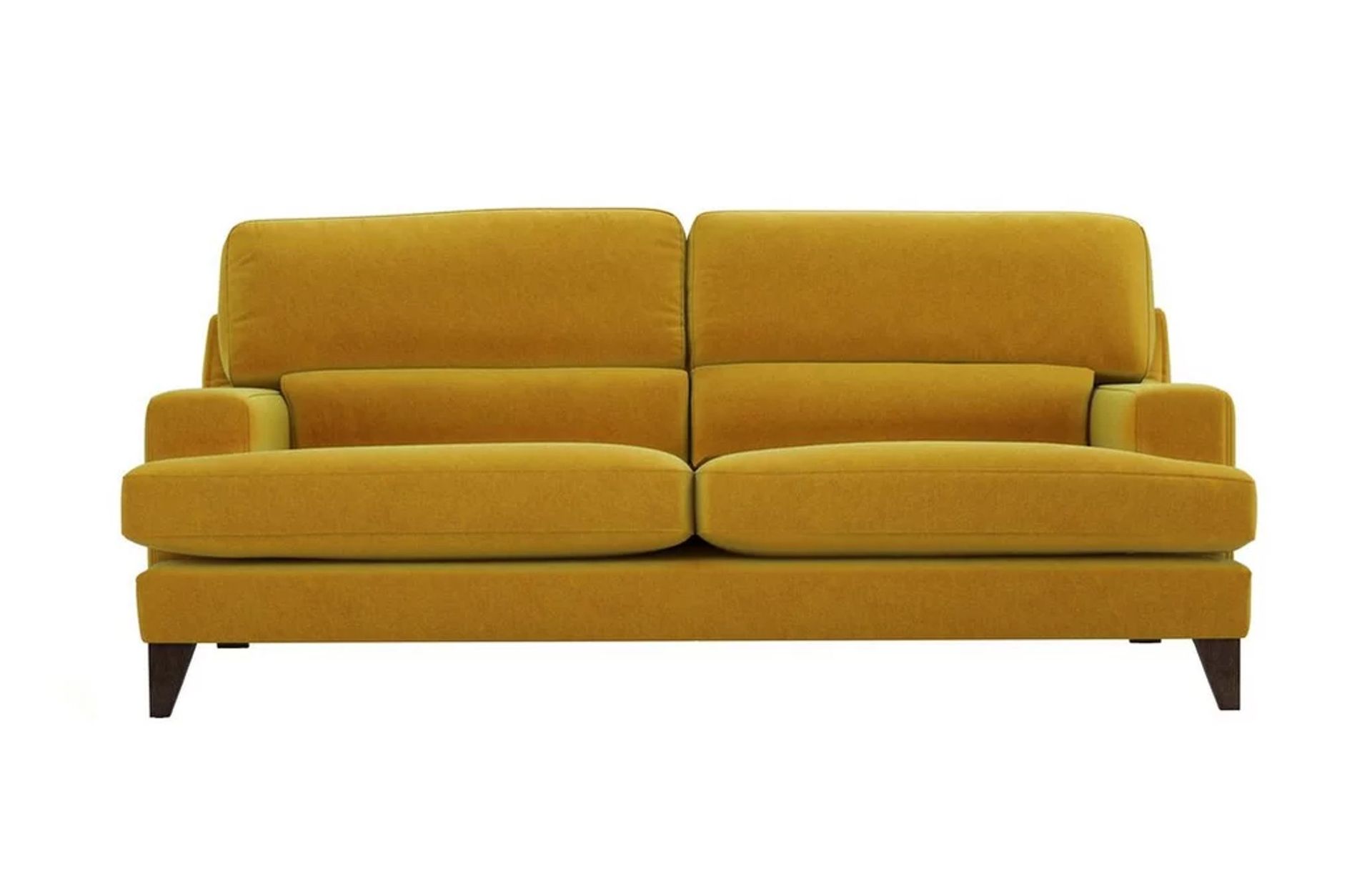 Sold through Furniture Village, we were impressed by most of the Lounge Co. sofas we tested, but if you're looking for comfort then the Romilly sofa comes top of our list. 
The high-backed design features lumbar support cushions that make sitting back super comfortable and supportive, and we found the seat depth to be just the right in-between depth that suits either sitter-uppers or curler-uppers. The foam seat cushions were also just the right balance of supportive yet soft. 
Available in two, three, or four-seater width, this sofa makes a great option for a period or mid-Century inspired home, with it's tapered legs, recessed arm rests and high back delivering classic style without the firm seat that's categorised many of the classically-styled sofas we've tested.
Upholstery options are more extensive than Furniture Village's usual range too, with some statement velvets, linen-look cotton and viscose mixes, and a selection of soft leathers.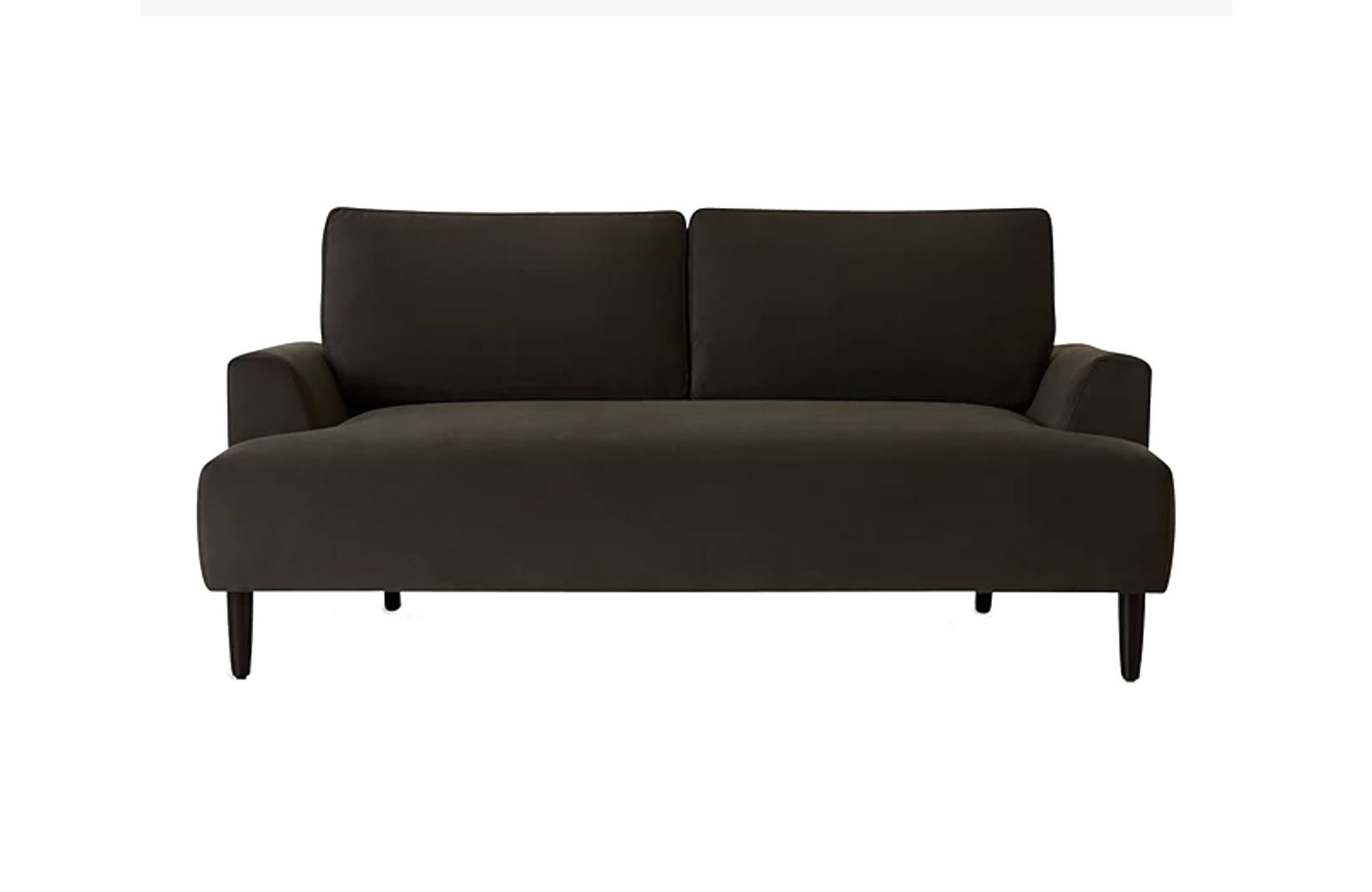 If time is of the essence and you're looking for a sofa with quick delivery, then a Swyft sofa is likely to be one of the fastest options going. In-stock designs arrive in under seven days and can be delivered in just 24 hour hours if you buy direct from the Swyft website (opens in new tab) with next-day delivery – a rare attribute in the world of sofas where delivery usually involves long lead times as seating is built to order.
The flat-pack designs also make getting your new sofa to its final destination a stress-free experience, with each box far more likely to fit through narrow doorways, tight hallways, and up multiple flights of stairs than a fully-built sofa. Having tried and tested a good selection of Swyft models (see our Swyft Model 02 sofa review and Swyft Sofa Model 03 review) we can also confirm that self-assembly is a fairly easy process, with no tools needed, although plenty of cardboard to dispose of in the aftermath.
The Model 05 sofa is one of Swyft's latest offerings, and with its clean lines and nod towards a traditional high-backed sofa shape, it's a great option for a modern or a period home. The seating is a little on the firmer side, but we found it a happy compromise for those who want both a sit-up sofa and seating that's deep enough to curl up on if required. 
And whilst upholstery options are a little limited, they're all great shades and fabrics, with our review team giving Swyft's stain-resistant technology a good run through, and all tests (thankfully) resulting in spotless sofas to date!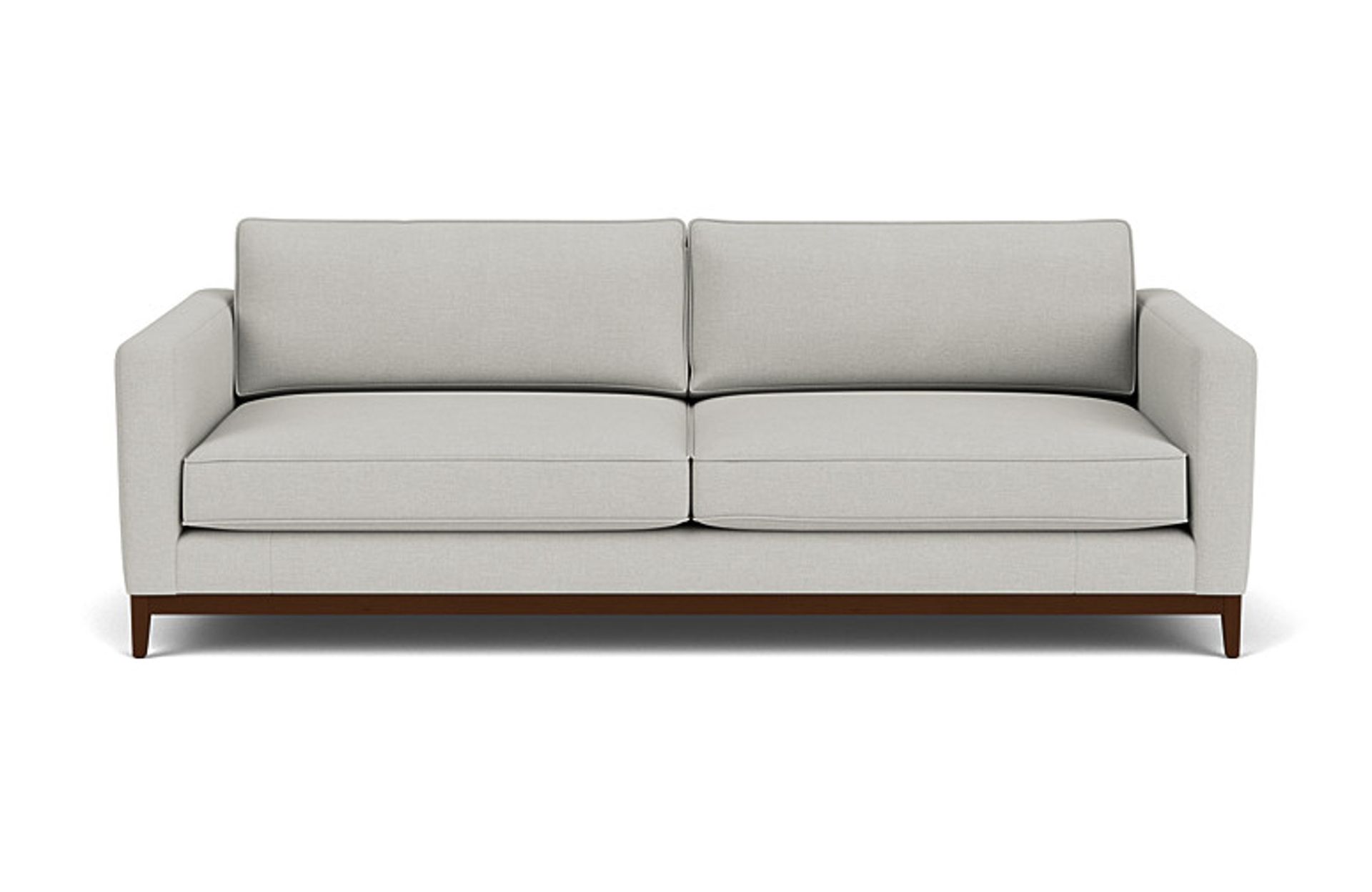 If you're looking for an affordable sofa then one of the most common compromises that will crop up is a lack of upholstery choice, and there's little more annoying than finding a sofa that's super comfortable and on budget only to discover that none of the colourways or fabrics will work in your home.
And, although Darlings of Chelsea's Darwin sofa is at the more expensive end of the price spectrum compared to other options on this list, the brand does offer the widest selection of fabric choices, with over 170 velvets, cottons, linens, and leathers to choose from in a vast array of colours and patterns. Plus, you can customise the feet too by choosing from four wood tones.
Comfort is also well-considered, with a great depth seat that offers the best of both worlds whether you want to sit upright or lounge, and a nice amount of sink to the seat cushions whilst still offering good support. Our only gripe was that the armrests were a little under-padded for our liking.
Another bonus is the option to have this sofa delivered dismantled and built in-situ, a great solution for anyone struggling with awkward delivery access.
---
Compare today's best sofa deals
Want to compare what you can get for your money? Use our comparison tool below to filter by sofa size, colour, and upholstery material to find the best deal for you.
How to choose a sofa
The best sofa for your home will depend on a range of factors, not least the size of your living room, your lifestyle, and of course, your budget. So what are the key things to consider when shopping for this key household item?
Size and layout
First up, you need to work out how big your perfect sofa should be. 
You may be constrained by room size, but if you have a little more space to play with then think about how many people your sofa will need to seat on a regular basis. If you can, opt for a sofa a little bit larger than the maximum capacity to make things less of a squeeze. 
However, it's also important to keep your sofa in proportion to the room to stop things from feeling cramped in a small living room, or the sofa from getting 'lost' in a larger space. 
A top tip is to measure out where the sofa will go in your room – including the sofa depth – to make sure there is plenty of space to walk around it. Check heights to make sure it fits under windowsills or existing wall furniture, and if it isn't flat-packed then measure doors and awkward hallway angles carefully to ensure you will be able to get it into the room.
A sofa can also be a really useful zoning tool in an open-plan layout, helping to create designated areas for dining or relaxing within a larger space. 
Chaise sofas, corner sofas or modular sofas in an L-shaped or U-shaped layout can be particularly useful here, or – if you have the space – you might want to switch up the usual layout of the sofa facing the fire or TV, and have two similar-sized sofas facing each other to create a space that works better for socialising and entertaining.
You'll find more top tips for planning your living space in our round-up of the best living room layout ideas, as well as style inspiration in our modern living room ideas section.
Comfort
When it comes to finding the most comfortable sofa for you, to our mind, sofa sitters fall into two main camps; those who prefer to sit up straight with good back support – in which case you might prefer a shallower seat depth with a higher backrest that means you can keep feet planted on the floor and your back aligned – or, those who instantly curl up or recline to lounge – in which case deep squishy seats and plenty of seat depth to add cushions could suit you better. 
A chaise sofa can combine the best of both worlds and offer plenty of sprawling space to keep everyone happy, whilst a corner sofa can be a great option for family living or shared households.
Next up, there's cushion construction to consider. Most modern sofas have either foam, fibre, or feather cushions. Foam cushions will bounce back into shape more quickly but generally provide a seat with more resistance, whilst fibre and feather cushions create a deeper cushion to sink into but will likely need plumping regularly as when they're not plumped they can become compacted. 
Which option you find most comfortable, and prefer the look of – if you're a neat freak then deflated feather or fibre cushions may not be for you – is largely down to personal preference, but, helpfully, many manufacturers have now combined the best of both worlds by wrapping resilient foam cushions in plumptious feather or fibre outers.
---
Looking after your sofa
You've found the perfect couch for you, plumped the cushions and planned the Sofa-based Netflix marathon. But what happens when disaster strikes and your new sofa gets its first spillage? Never fear. Our guide to how to clean a sofa will have you sorted pronto, along with our round-up of the best upholstery cleaners for your sofa fabric type.
---
How we chose the sofas included in this guide
To find the best sofas for all budgets we've walked multiple miles around multiple sofa showrooms and toned our glutes doing sit test after sit test to try out all the latest releases, plus grilled the Real Homes team for their expert knowledge, along with their friends, and their friend's friends, to find out how their sofa choices are holding up to the rigours of day to day life. We also take into account the wider views of those who own each product, whether that's via online reviews or social media. Click here to find out more about how we review products on Real Homes.
Amy is the Real Homes team's resident sofa expert and has clocked up the miles testing out bestselling sofas in showrooms across the country to find the best-in-class sofas for this guide.
Want more living room inspiration?
Find out how best to use your space in our guide to how to design a living room, or stay on top of the latest trends and easy decor updates on our dedicated living room ideas page. And if you're struggling with how to make the most of a compact lounge, then find top tricks and tricks in our guide to how to choose furniture for a small living room.