Autumn is knocking at your door, and in our eyes there's no better way to mark the start of this season than with an autumn wreath. Forget pumpkin spiced lattes, puffer jackets and cinnamon scented candles (for now) because this is how you can dress your space for autumn with total ease. Hang an autumnal wreath and welcome the season in style. In fact, autumn wreaths are one of the biggest autumn interiors trends, and Real Homes' Style Editor Anna Morley can confirm why: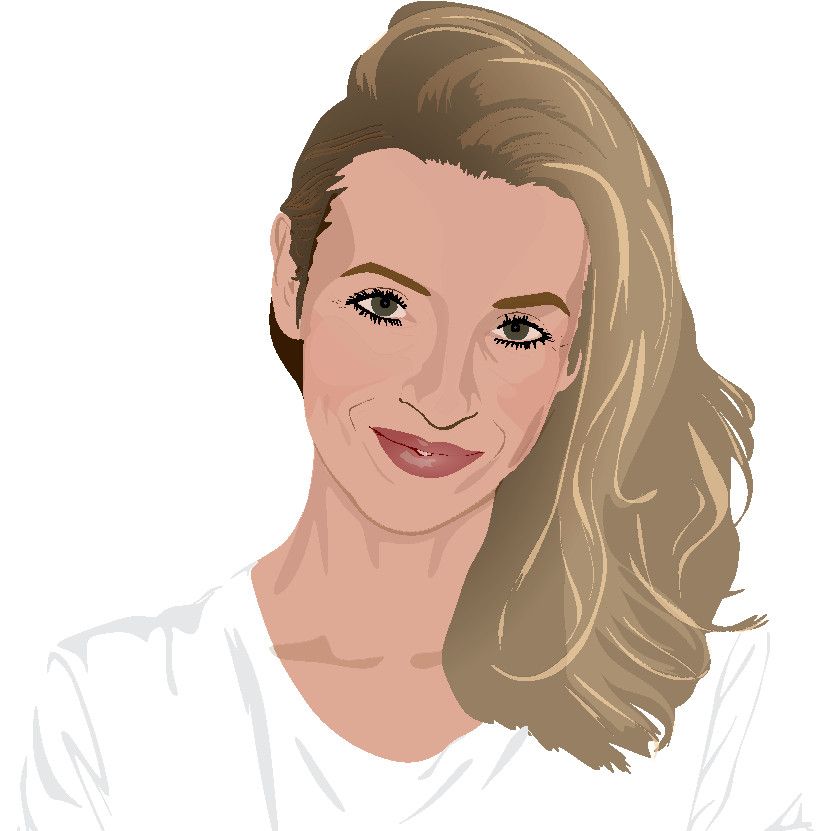 "A beautiful wreath is not only a stylish decor piece in its own right, but also an easy way to pretty up the home, celebrate a new season and… depending where you place it, provide a warm welcome too.  
Dried flowers and grasses look great for an on-trend look, go faux for longevity, or try fresh and natural foliage for a touch of nature's best. You could even try mixing and matching by using a shop bought version then personalise by adding fresh, seasonal additions to create your own unique look. 
Although wreaths are a fabulous addition to a front door, don't limit yourself. Used inside they can make an elegant centerpiece, be used as a piece of art or hung horizontally they can be suspended over a table for a cool hanging display." 
The wreath roundup below features artificial and faux flower wreaths, light-up types and even real DIY wreaths you can make at home. Whether you have a large door to adorn or a small indoor area to decorate, we've chosen a range of wreaths to suit all spaces just below. Get yours now to avoid the best ones selling out. 
And since new research from luxury bed linen retailer Secret Linen Store (opens in new tab) has revealed that the 17th of August is the day of the year that we can officially start decorating our home for autumn, you might want to browse more autumn decor ideas for more inspiration.
Our favourite autumn wreaths to buy for 2022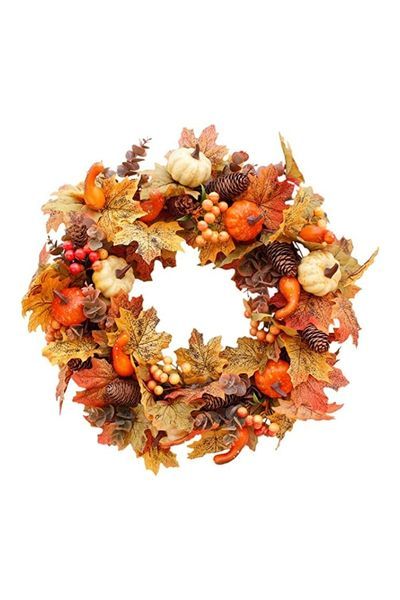 (opens in new tab)
1. Autumn Wreath Artificial Wreath
Size: 50cm 
You don't get much more autumn than this… Pinecones, pumpkins and leaves in the colour of fall, this wreath is full of everything the season has to offer. And for £12.98 – it's the cheapest we've seen.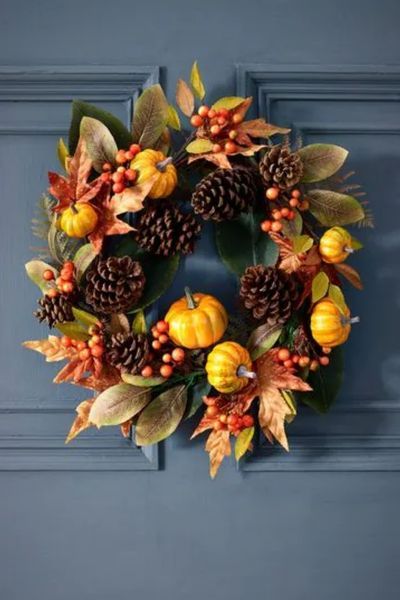 Size: Information not available
This bright in bloom wreath from Next is the best way to let your neighbours know you're in autumn mode. Oh and there's a matching garland too, if you're wanting to bring the season in.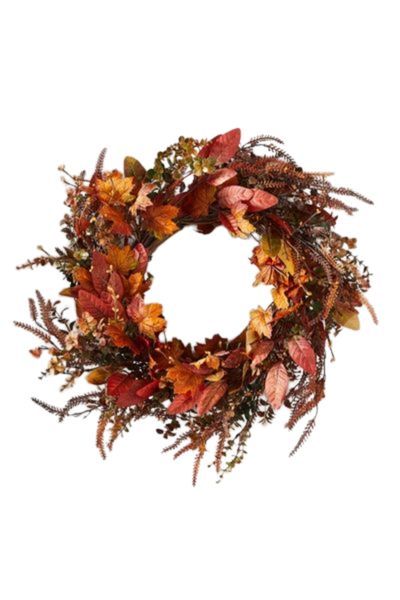 (opens in new tab)
3. Lights4fun 40cm Maple Leaf Autumn Wreath
Size: 40cm 
If you've seen our garden lighting ideas you'll know how much we love Lights4fun's offering of pretty but practical lights to decorate your space. Well, their autumn wreath is just as good, with option to bring it indoor too. Don't you agree?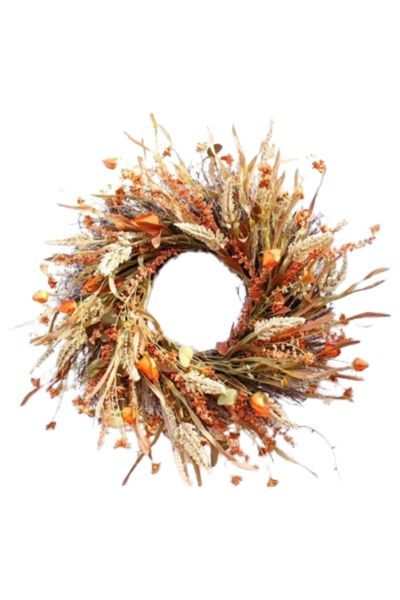 (opens in new tab)
4. XL Autumn Fall Wreath | Autumn Wreath
Size: 56cm 
This larger than life dried-flower wreath is an Etsy best-seller. Beautiful, big but low in price it's a bargain buy that is sure to steal the show – which we know is especially important if you're in (healthy) competition with your neighbours.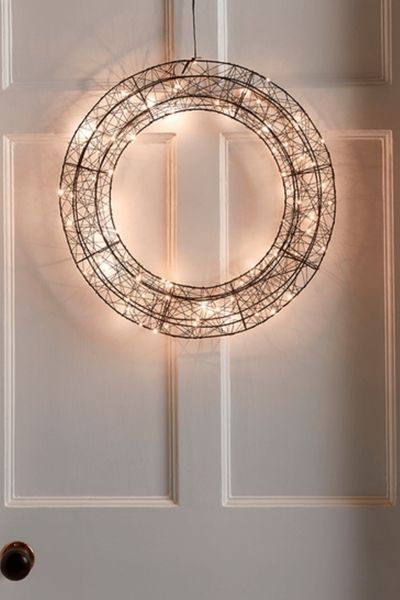 (opens in new tab)
5. Indoor Outdoor Light Up Wire Wreath
Size: 49cm 
Simple, versatile and incredibly cute, this light up wreath will work for autumn, and Christmas. Hang inside or out to light up your entryway or back garden, it's sure to give your guests a festive welcome either way.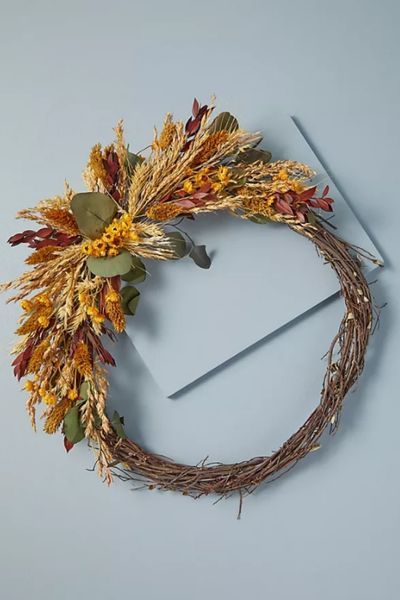 (opens in new tab)
6. Wooden Dried-Flower Wreath
Size: 42cm
Smaller in size and with less leaves to go around this dried-flower wreath from Anthropologie is a subtle way to get you in the spirit for autumn. Handcrafted for an authentic look, do note to handle it with care and hang it indoors only.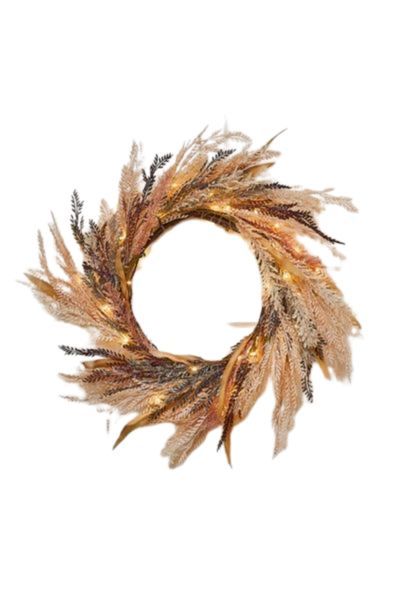 (opens in new tab)
7. 45cm Wheat Autumn Wreath Micro Light Bundle
Size: 45cm 
Store away and keep for years to come, this timeless wreath fit with a set of sparkling micro lights will illumine your entryway or living room. In classic wheat and beige colours too, it won't go out of style.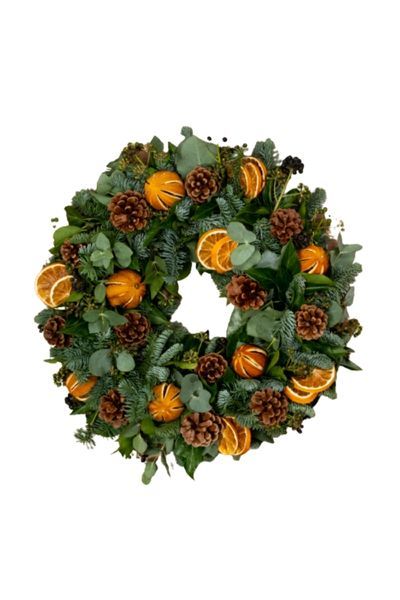 (opens in new tab)
8. DIY WREATH KIT – BERRIED CLEMENTINE
Size: 35.5cm 
So this may be listed as a Christmas wreath, but we think it'll fit in with any autumnal aesthetic thanks to it's clementine and pinecone accessories. It's offered in a DIY kit too, so you're able to make it your own.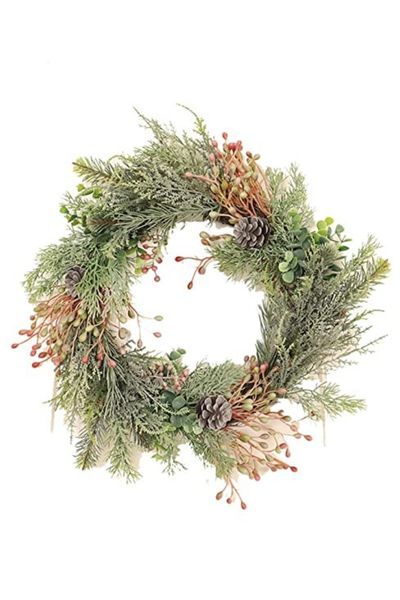 (opens in new tab)
9. Livingandhome Green Artificial Eucalyptus Wreath
Size: 40cm 
This pastel Eucalyptus artificial wreath is perfect if you're eager to start decorating for autumn. Since it's light in colour and not to heavy on the seasonal theme, it won't look out of place come rain, or shine.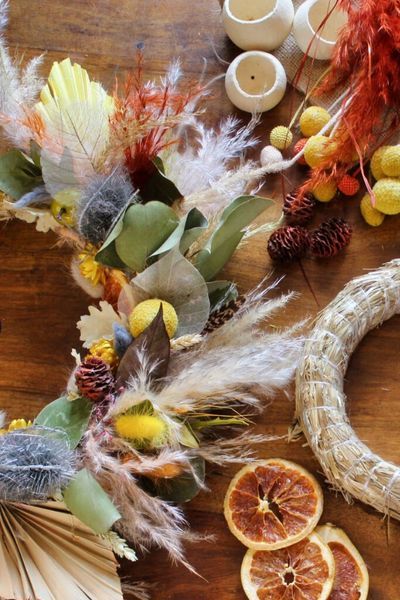 (opens in new tab)
10. The Flower Collective Autumn Dried Flower Wreath Kit
Size: 20cm / 25cm / 30cm / Heart 
This DIY autumn wreath kit will have you arranging dried flowers and fruits into any display you like. Want a heart shape wreath? Or a wreath with more Pampas than leaf? Make an autumn wreath that's unique to you.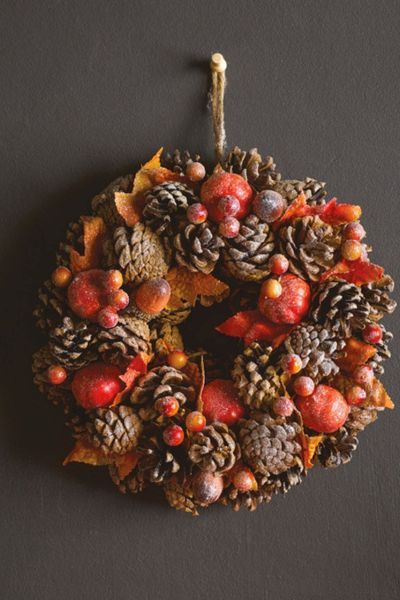 (opens in new tab)
11.Bloom Autumn Dried Wreath
Size: 24cm 
This small but full-bloom dried flower wreath is a great add-on to any autumnal set-up. Simply hang using the string from a hook in your entryway or living room. Even better? Lay it flat on your dining table and place a pillar candle in the middle for an centrepiece sure to impress.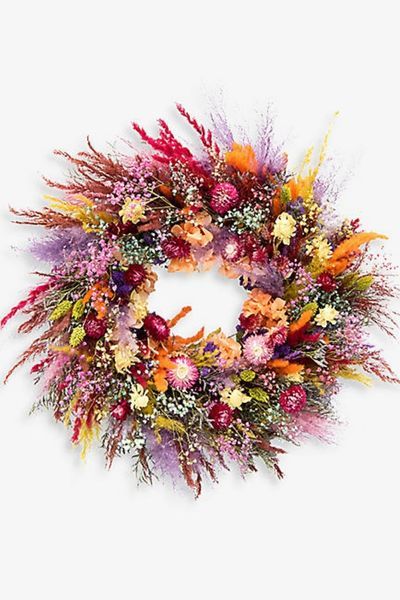 (opens in new tab)
12. Your London Florist Colourful dried wreath
Size: 55cm
If you can't quite say goodbye to summer colours, then this bright and bold wreath exclusive to Selfridges incorporates pinks, lilacs and greens into the classic red, orange and yellow autumn palette. It's beautiful yes, but bare in mind it costs considerably more too. 
---
What is an autumn wreath?
Just like a traditional Christmas wreath (think of that picture-perfect winter front door where a beautifully styled wreath hangs in the centre), an autumn  wreath is a great décor piece for your home. Just swap out the frosted green leaves and holly berries for maple leaves and acorns.
When should I hang an autumn wreath?
Simply put, now. The hot weather is coming to end and we're welcome the signs of September. So why not hang an autumn wreath to mark the occasion. Whether you're swapping out your summer decor or eager to show your love for all things pumpkin-spiced, we'd suggest hanging your autumn decor from as early as late August, through to September and October.
How do I hang a wreath?
Most wreaths will come with a ribbon or attachment that'll slot onto a hook, and those that don't you can easily wrap a piece of string around yourself. The difficulty with putting one up comes if you're a renter or would rather avoid making a whole in your wall, door or mantle. 
Luckily, command strips (opens in new tab) can come to the rescue. Just as they work well for hanging pictures or posters, command offer some sticky-back hooks to temporarily hold your wreath without risk to the wall. If you're wanting to hang your wreath on your door, Amazon also have some handy wreath hangers (opens in new tab) designed especially to hook over the top of your door. 
---
How we chose these autumn wreaths 
There's no denying there are more than plenty of pretty autumn wreaths on the market. Whether you're browsing Anthropologie or looking to pick up a DIY kit to craft your own from Etsy, that is. That's why we've taken the time to find ones at a good price that might last you longer than just this year – for the artificial wreaths only, mind. Otherwise, the natural wreaths have to have rich colour and a beautiful arrangement that beats the one you could have made yourself.
We chose these autumn wreaths based on looks mostly, and also online reviews (when applicable), whilst bearing in mind each wreath's size, price and its construction as a good quality artificial wreath should last for years of use.